So last week I talked about my love for snail mail.
My love is multiplied for funny snail mail cards and I think that Julie hits the nail on the head with her line of cards.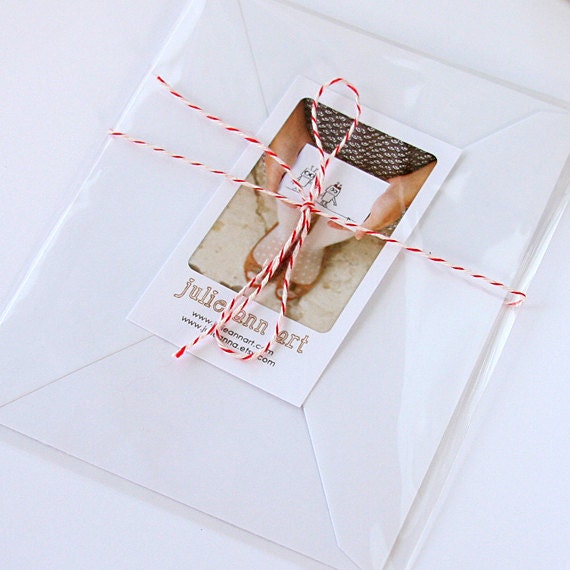 I've bought several of her cards (this one, this one and this one) and everyone I gave them to absolutely loves them. I can not say enough about this girl's creativity. Hallmark, step aside. You're too old school to play.
let's meet Julie. :)
Hi there! My name is Julie.

I'm a

small business owner

who has a weakness for anything turquoise and all puppies ever.

I have an Etsy shop filled with cheeky, hand-drawn greeting cards that will make you laugh. I also blog over at Julie Ann Art.

My blog has become my creative outlet, where I can not only document all of my ideas, inspirations, and handmade projects, but share them with other crafty nerds like myself!
How did you get started in the handmade world?
In March 2008, a friend of mine told me about Etsy. It immediately sparked my interest because I had always enjoying making things, but never imaged selling them. I started selling on Etsy for fun, with no real intention of making a living on it. Little did I know, how inspiring it would be, having fans who enjoy your work and want to see more of it. I got addicted, caught the Etsy bug, and never looked back.
Well, I recently took the leap from a stable job to self employment. This was a huge decision for me and it is definitely too soon to know if it will work out for the rest of my life. My dream would be to continue pursuing my own business full-time, while making a comfortable living.
I admire Julie on so many levels-- for her shop, her blog and her drive to make her dreams a reality. She is generously giving away $20 credit to her shop. (and I really wish I could win.) The $20 would be perfect for the holidays-- I know she has quite a few holiday cards up her sleeve. :)
xo, erika