Oh hi! I
'm glad you could make it to Christmas party going on the blog. There will be tons of crafty DIYs and gift ideas, not to mention some yummy recipes. So grab a cup of cider, settle in by the tree and enjoy!
Hello Rouge & Whimsy readers!
My name is Mary Susan (I often go by Mae or Mae Mae...a name given to me by my little sister) and I blog over at
Two Hoots & a Holler.
Today I am SO EXCITED to be guest posting here at Rouge & Whimsy. I found Erika's blog a few months back and immediately fell in love!
Thank you Erika for giving me a chance to talk about one of the best parts of Christmas:
My mother is an artist and growing up I always loved to watch the time, detail, and care she put into her gift wrapping. She would stay up all night, making sure the bow was just right and the paper was aligned perfectly. To this day, her gift wrapping is almost as exciting as the gift itself :)
As an adult, I don't have a lot of time to spend on wrapping (or the budget to buy pre-made bags, boxes, ribbons, and tags.) That being said, I still love to present gifts in wrapping that is unique, special, one-of-a-kind, handmade, and done with a bit more thought that the typical gift bag or holiday paper.
This year, I'm in the middle of an adoption (in fact I may be in Ghana as you read this!), taking classes for my doctorate, and working part-time. I don't have a ton of time to wrap gifts, but that doesn't mean they can't be cute! Here are some gifts I wrapped this week, with things I had lying around the house. I bought the black and white paper letters at a craft store years ago and I'm still using them! They were super cheap and each letter peels off of a stack like post-its.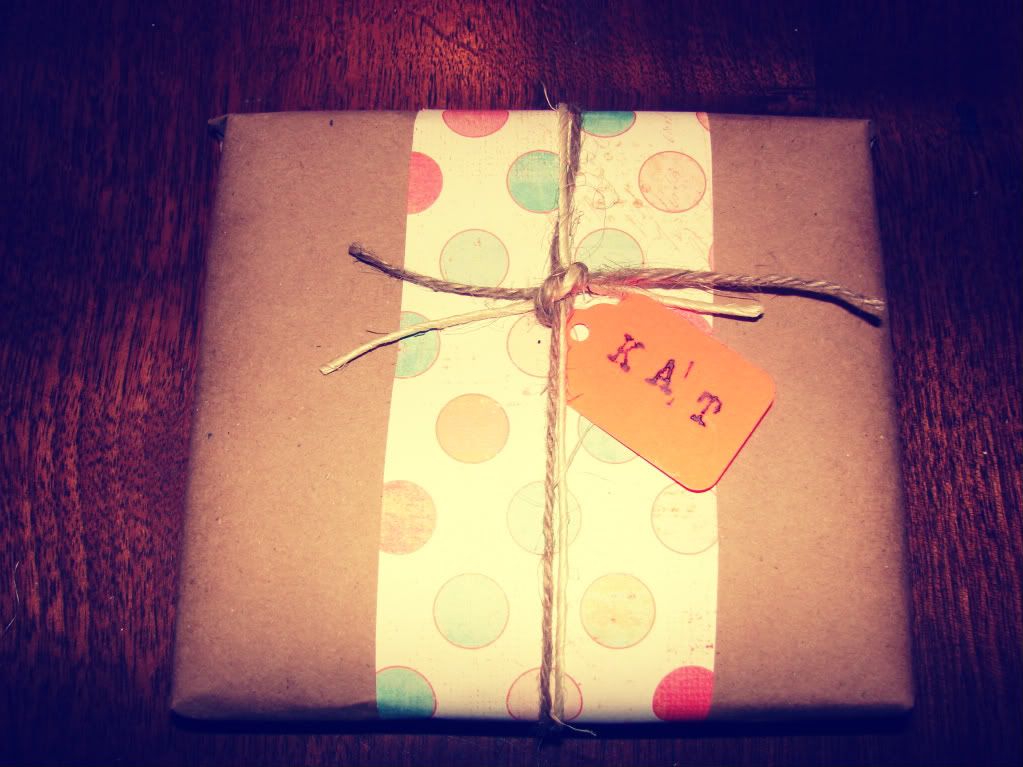 I stole this crossword wrapping paper idea from wanleo.com via Pinterest. This puzzle, however, is totally custom to my recipient's name! I made it in about thirty seconds on puzzlemaker.com, hit print and voila! (I used to teach middle school.) Super easy and so much fun! (Half the fun is finding the name in the search after you print it... I'm not going to lie... It took me a little while to find "Lindsay" since it's going down to up... but they have a "solutions" button, if you don't have time to waste.)
I use jars for so many things... vases, containers, candle holders, etc. I hate throwing away good jars, but let's face it... I can't save them all. Luckily, some of my gifts fit into jars! Then, if I wrap them really well, the recipient will take the gift out and then keep the jar to display/hold their everyday items : pencils, pens, rulers, etc. Two gifts in one!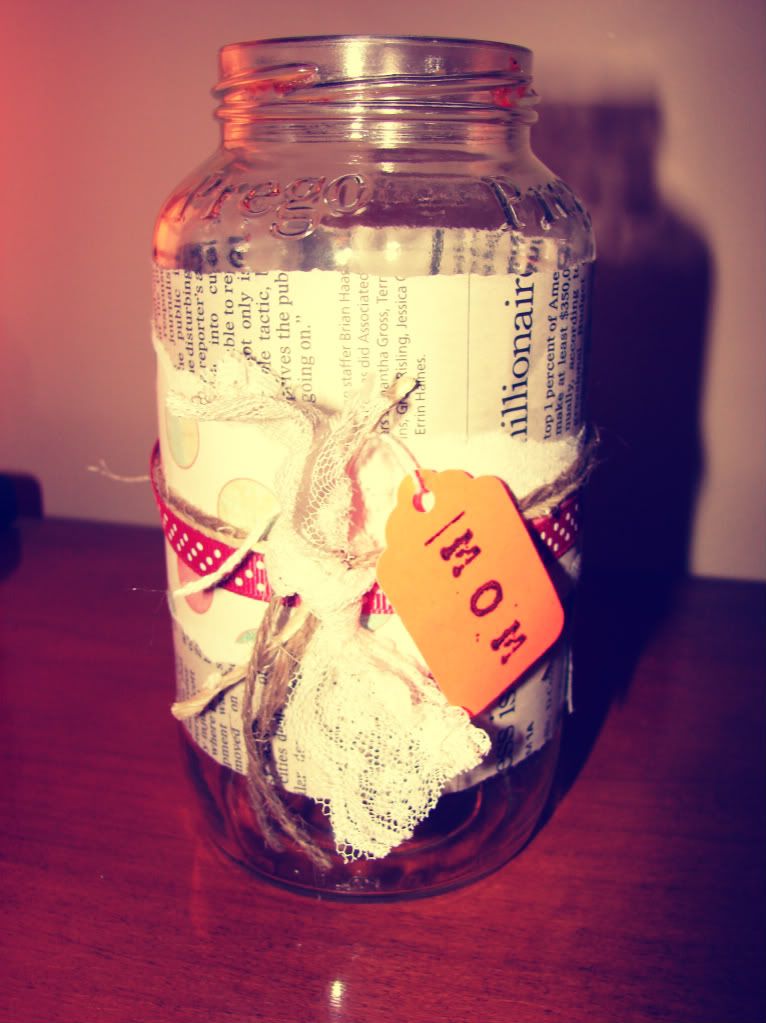 This was wrapped with a torn apart brown paper bag...
<><><>
adorable right? I have not started wrapping gifts--heck I haven't even bought them all yet--but I will definitely use these tips when I do!
p.s. Mary Susan is in Ghana right now finalizing her adoption! Go check out her journey on
her blog
and give her some support. :)