There was a time, once upon a time, that I didn't leave the house without makeup.
There was a time when I put on coverup and mascara to go to my college gym.
There was a time when I was consumed by looking "put-together."
My sophomore year of college, a few friends and I issued a challenge... No Makeup March in which we could not wear anything-- not even colored lipgloss-- for an entire month.
To some of you, this is no big deal. But to me-- the girl wearing mascara and running at the gym-- this was a huge challenge.
I didn't feel pretty
without makeup and to go an entire month was ludicrous.
Yet, I took the challenge and for one month, I washed and dried my face and left for the day.
At the end of the month I was completely changed. While I was excited about wearing makeup (and especially covering zits) I realized that no one thought less of me because I wasn't all "made up." I realized I didn't need to have mascara on at the gym.
I realized that I could be beautiful without it
.
I bring all this up because as a woman, I am constantly bombarded by advertisements to get the latest product, images of women perfectly airbrushed and fit and I begin to believe that I need to look like that. I begin to believe that I am not good enough and I stop loving myself as much.
I bring this up because February -- the month of love -- is the perfect time to embrace imperfection and remember the importance of loving myself -- with makeup or without.
Amy of
A is for Ampersand
is celebrating a month of loving ourselves on her blog. It's a beautiful thing and perfect for Valentine's Day. Join her? Join me? (I promise you can still wear makeup.)
Sign the revolution
on her blog today. :)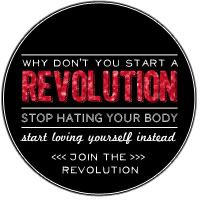 xo, erika