I posted about
my thrift list
in November and I'm happy to say that after months of searching, I've picked up both two silky blouses (one in off-white and one in turquoise) and my big win, a denim button-up.
I had almost given up hopes on the denim shirt. Urban Outfitters was tempting me with their version and someone at work picked one up at Forever 21.
And then I received the anthropologie catalog which teased me more with a photo of a girl rocking a denim shirt on the cover. I almost bolted for the mall right then and there.
But I was bound and determined, which paid off when I picked up a denim button up Saturday for $3.99. I'm pretty dang proud of myself and finding it in the rack of clothes at the St. Vincent de Paul's was so satisfactory after the months of hunting -- I may have jumped up and down.
My first time wearing it, I had to take a little bit of inspiration from anthropologie.
anthropologie's styling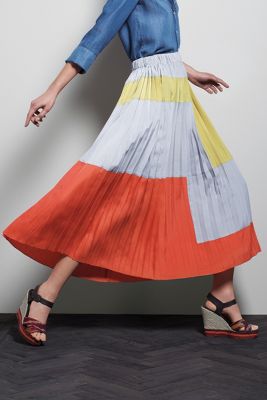 and my styling...
top: thrifted, $3.99 skirt: Nordstrom, $24 boots: $80 two years ago, Nordstrom
Now I just have to find the thrifted version of those gorgeous shoes. That may be harder.
xo, erika
p.s. I love seeing an outfit idea and making my own version of it. Do you guys do this? If so-- I'd love to see it and feature it here!
Pin It