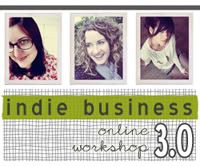 I joined an online independent business class for a little instruction with selling my headbands.
I was decidedly a terrible student.
But I'm not being too hard one myself-- I started a new job and helped my dear friend plan a wedding.
With that said, here's some kudos to the ladies who were great Indie Biz students. Do yourself a favor and check out their shops and blogs. You won't be disappointed.
Click the button [so thoughtfully made by
Louana of the eleventh monkey
] to get the full list of blogs, shops & promotions going on!